Aloha! Fancy learning the ukulele, but do not have time for classes? We offer fun ukulele workshops for events and companies. Taught by our experienced instructors, the workshops are designed to give you the tools to jump-start your ukulele playing in no time.
Objectives:
Participants will be introduced on the fundamentals (posture, tuning, playing techniques, etc) on ukulele playing. Chords and basic strumming patterns will be taught. You will be able to play a simple song (or two!) at the end of the workshop.
Fully Customisable Duration, Group Size, etc:
Let us know the number of participants, and we will be happy to advise on the duration required. As a guide, we recommend a 60-min workshop for a group size of about 20 participants. We can even customise the content of the workshop according to your requirements. Let us know what you need.
Venue:

Make yourself comfortable. We would love to travel to your preferred venue, be it your office,  school campus, or wherever. You choose.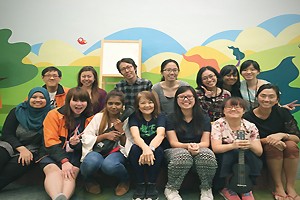 We can even do it outdoors if you wish!
We love getting in touch with nature. The beauty of acoustic instruments is that we can play it anywhere.
No batteries needed, because the power lies in your hands!
Recommended for:
Total beginners with zero experience
Note:
Participants are strongly encouraged to bring along their own instruments for the workshops. Should you require temporary loaning of instruments, we provide ukulele rentals (optional).
---
❤ Clientele
We have provided various workshops, services and performances for:
BP (British Petroleum) • Singapore Police Force • National Dental Centre • NTUC Income • IE Singapore • Singapore Science Centre • Anderson Junior College • CHIJ St. Nicholas • Eureka Campaign Associates Pte Ltd • Youth Corps Singapore • Festival Square Circle Pte Ltd • The Paragon, Singapore • Old Airport RC • Pine Close RC • Dakota RC • Kembangan-Chai Chee CCC • Katong CCMC • Marine Parade Town Council • PAP Braddell Heights Branch
---
★  Email us at music@replugged.com to find out more!