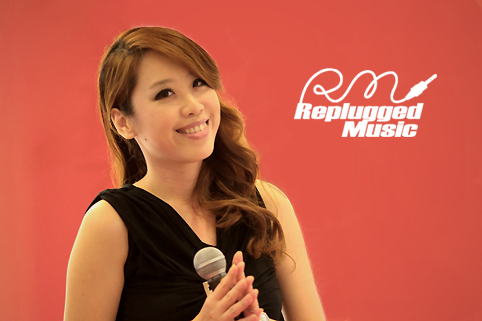 After successfully getting into the finals for the first annual singing competition organized by The Ark Cafe & Tea in 1998, Bevlyn was soon sought to perform as a regular part-time singer since 1999.
Bevlyn has also been an active demo-singer for many local songwriters since 2000. Her singing talent was also recognized when she successfully got into the quarter-final round for group category in the nation-wide singing competition, Talentime 2001, organized by Mediacorp. In 2004, her vocal demo for a Mandarin hit, Wu Di Dong made popular by Singaporean singer Tanya Chua, was published in a CD compilation of demos entitled "True Colors" (原色) sold in various record stores.
With a passion for writing songs, Bevlyn had also rendered help to Central Manpower Base (CMPB) by penning lyrics for its Dinner & Dance 2002 song, "CMPB, You & I". Her song-writing talent was spotlighted when her song-entry Jiao Cha Lu Kou successfully got into the finals for a nation-wide Mandarin-pop song-writing competition, Xin Yao Jie 新谣节 '2003 and was recorded into a compilation CD sold in various record stores. This song was subsequently sold to a Taiwanese singer, Freya Lam (林凡). In 2004, Bevlyn further put her song-writing skills to the test when she took part in a community song-writing competition (organised by North West CDC and Reader's Digest) and walked away with the 1st runner-up (Open category). She was previously a contracted song-writer with Warner Chappell Music Publishing (Taiwan).
In Jan 2003, Bevlyn quit her job in the social-work field to pursue her passion in music. She became a contracted a cappella singer with a group named "Notations", which is under the umbrella of The Acappella Society of Singapore (TAS). She performed with the group in school tours to school children and even to supporters in Taiwan and The Netherlands.
Besides The Ark Cafe & Tea, Bevlyn used to perform regularly with her 2-piece band in a winebar, Sanliubar. She is also a private pop vocal instructor in various organizations. In 2005, she tries her hand in acting as well in the Phua Chua Kang Musical.
Bevlyn's singing and song-composition is heavily influenced by the music of Mariah Carey, Penny Dai, Sandy Lam and Jonathon Lee. She especially loves to groove with soul, funky, RnB and jazz music.
Bevlyn strongly believes in patience to better singing: Patience to listen to good singers, and patience in one's musical growth.