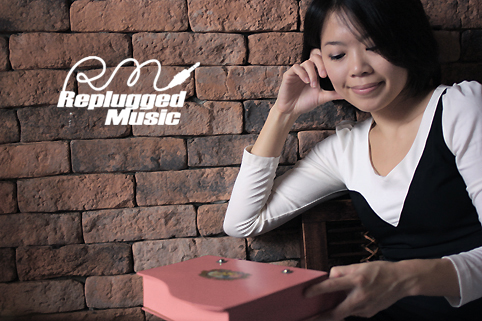 With the conscious need for her need to express, she has always known her love for the arts. Her singing career first took off when she tried out her chances with a local production company, 海蝶音乐 Ocean Butterflies Pte Ltd. Following that, she was signed as a recording artiste under Ocean Butterflies Pte Ltd 2 years after.
During her stay with her signed company, she was fortunate to have had several golden opportunities of performing with various artistes and of recording in professional studios. She has by far done many professional jingle recordings and several demos, some of which has been sold to foreign artistes. Amongst some of her noted works includes: Main Theme Song for Eating Air 《吃风》 Original Movie Soundtrack, UFM 100.3 Theme Song (all original versions), Tiger Ad (What Time Is It? 《什么时光》Chinese version), SCV Jingles for E-City Channel 56 《有你有我有都会》/ Lunar New Year Jingle, and her recent jingle for Sheng Shiong Supermart, and most memorably, having an opportunity to work with one of Singapore's most talented and shining a capella group, Vocaluptuous. Amongst her other achievements, would include backing up vocals at local artiste, 陈结仪 Kit Chan's concert, vocal harmony recordings for 阿杜 Ah-Du, penned lyrics for 林俊杰 JJ Lin Jun Jie's hit song, Bei Feng Chui Guo De Xia Tian 《被风吹过的夏天》. She was later on awarded the Top Local Soundtrack (Best Lyrics) Award by Composer and Author Society of Singapore in 2007.
All at the same period of time, she was also performing at a local music cafe. This offered her a valuable opportunity to fully understand the essential need to combine good healthy vocals together with stage performance. Her belief in the need to sing correctly while preserving the fundamental beauty of contemporary singing now urges her to help other singers and aspiring singers to overcome their vocal problems and discover their own voice. She is grateful for Leigh McRae, a wonderful vocal instructor and coach for all his simple and yet effective technique, Vocal Mastery, which truly inspired her in singing as well as vocal instruction.
Understanding the need for good vocals, as well as good stage performance, she furthered her interests in the arts. She started picking up Jazz, MTV-dance and hip-hop as part of her love for movement and performance. She was largely attracted to the lines, energy and choreography in Street Jazz, and continued dancing with various studios, one of them being Studio Wu, where she also participated in a dance musical Stealing Sole. Thankfully, despite late training, she was very fortunate to acquire an opportunity to compete with the NTU team for their annual Impresario event, and more so to be awarded 3rd in the group category. Later on, she was also offered a scholarship programme at Jitterbugs Swingapore. And the latest addition to her musical participation would be in another Singapore Repertory Theatre Production, Forbidden City: Portrait of An Empress.
In 2007, she was invited by Love 97.2FM, together with other instructors, as well as students to accompany on the piano and sing live on air. She looks forward to more opportunities to perform live with various musicians and band, in various acoustic or experimental setups.
As she continues to explore various methods of teaching students to discover their voice, and improving their technical as well as stylistic abilities, she doesn't give up her dreams to create and compose in various interests of the Arts in her life. Her musical influences includes Jewel Kilcher, Lena Park, Keiko Lee, Diana Krall, 林亿莲 Sandy Lam, Siti Nurhaliza, K.T. Tunstall, Jane Monheit, Kelly Clarkson, various Pop Ballads, Gospel and Jazz standards.